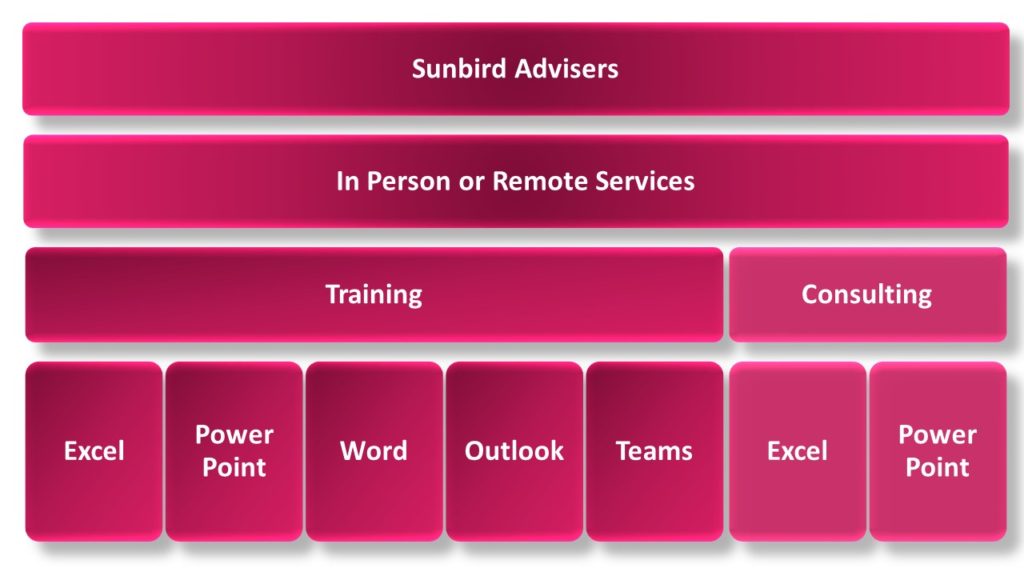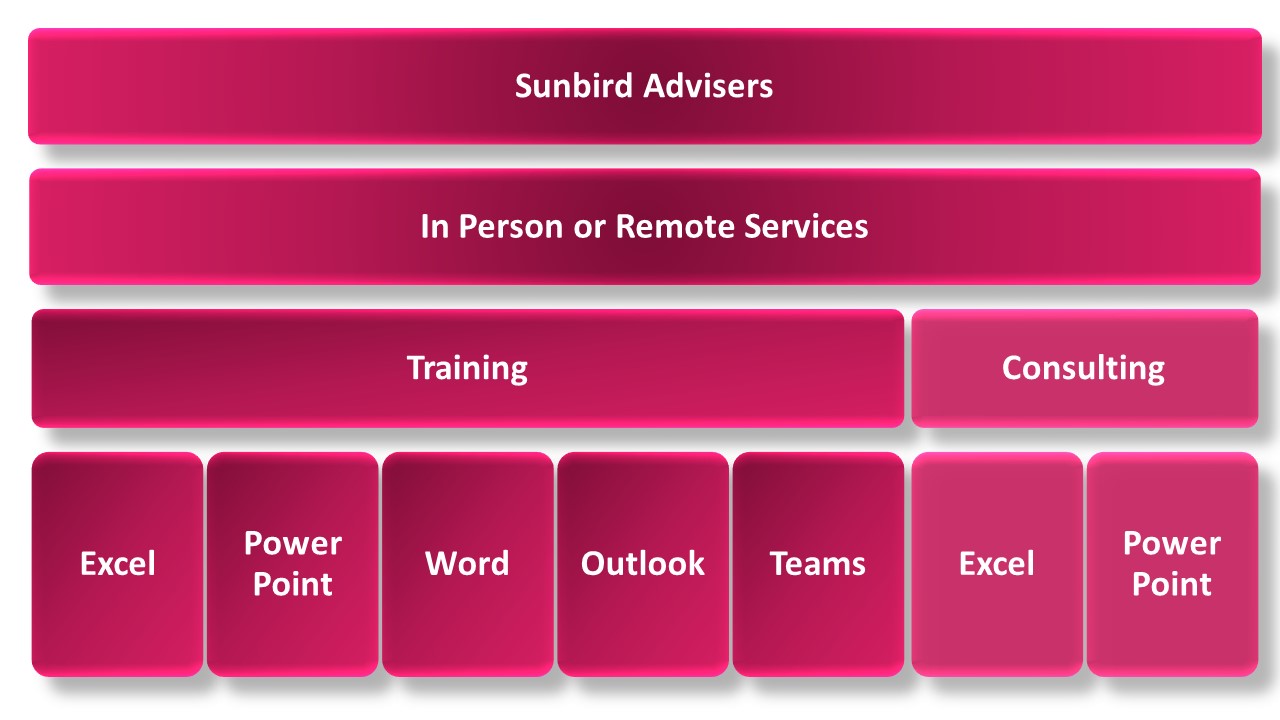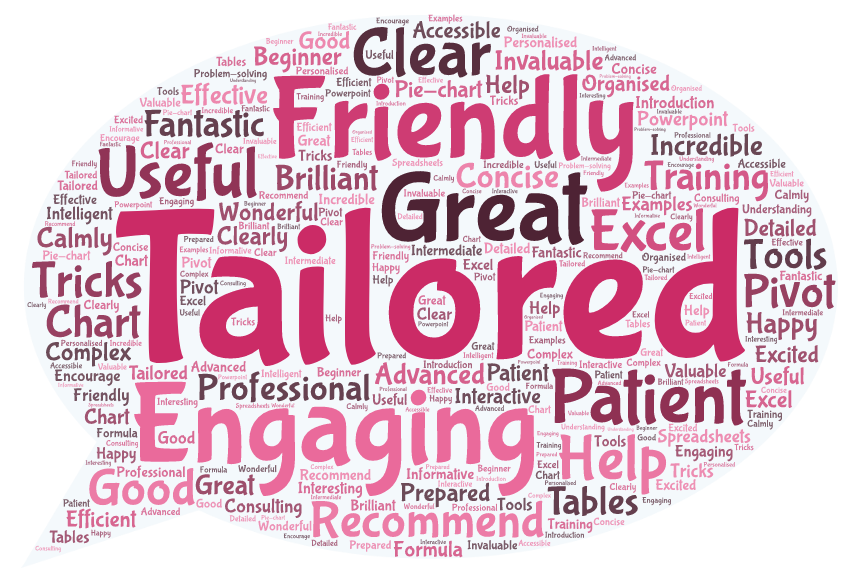 Microsoft Excel Spreadsheet Training
Excel Spreadsheet training in London or remotely via  Zoom or Teams
Individually tailored personalised Microsoft Excel training, from Excel for beginners to advanced Excel training, functions and formulas. Office 365 and Office 2021, 2019, 2016, 2013, 2011, 2010, 2007 and 2003 training. The Excel training will instantly improve processes, increase efficiency and reduce spreadsheet errors. Excel for PC or Mac. Excel refresher courses are available.
Content includes filtering, sorting, formatting, charts, calculations, vlookups, ifs, sumifs, autosum, pivot tables, charts and more. 
If you want to know how to vlookup, how to create or improve Excel pivot tables, how to use the Excel IF statement or create Excel data dashboards plus much more then get in touch.
Microsoft PowerPoint Training
PowerPoint Office 365, 2021, 2019, 2016, 2013, 2011, 2010, 2007 and 2003 training.
We offer individually tailored PowerPoint training or tutoring at your home or office computer - a great alternative to generic instructor led PowerPoint courses.
Training is 1-2-1, small group sessions or large group courses, in person or remote via Zoom or Teams.
Covering Slide Masters, Layout, Design, Text, Shapes, Formatting, Aligning, Grouping, Pictures, Charts, Tables, SmartArt, Animations, Transitions and more.
Outlook and Email Management Training
Sunbird Advisers provide Microsoft Outlook and Email Management training.
Since employees have been working from home, feedback is that email traffic has dramatically increased and has become overwhelming and a source of stress and anxiety for employees.
The course will include Outlook functionality as well as suggestions and a discussion on ways of reducing number of and time spent managing emails.
Improve your email management with rules, categories, searches, flags, conditional formatting and more.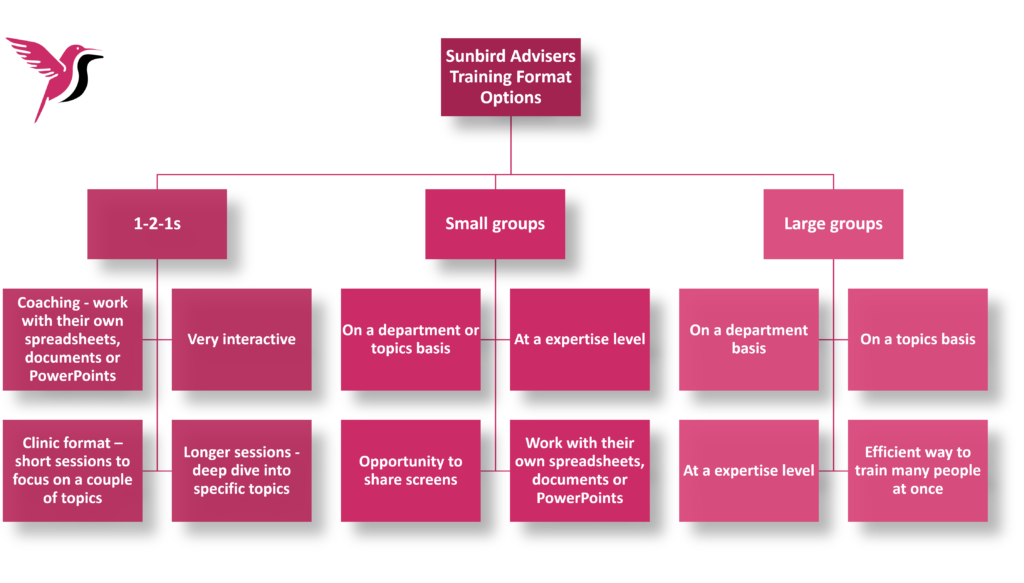 Sunbird Advisers provide Microsoft Teams training courses, we will cover channels, groups and chats, as well as uploading files and communicating via chat, video and meetings. We will also cover Teams tricks and tips.
We also offer IT Teams Support for adhoc Teams user questions and issues.
Microsoft Teams course is suitable for employees from all departments and levels of experience.
Training for PCs or Macs.
Excel Spreadsheet Consulting
Sunbird Advisers provide an Excel spreadsheet consulting service - troubleshoot existing Excel spreadsheets, build reports, set up new Excel spreadsheets and improve processes. Can advise in person or remotely.
Remote Excel consulting is available for anywhere in the world, not just the UK - calls can be made via Skype and screen sharing and spreadsheets can be worked on remotely.
Expert Excel consultants can advise on data manipulation, Excel automation, cashflow forecasts, budgets, dashboards, formulas, functions, formatting and more.
In Central London, The City, Canary Wharf, West End, NW London and the surrounding areas. Excel for PC or Mac.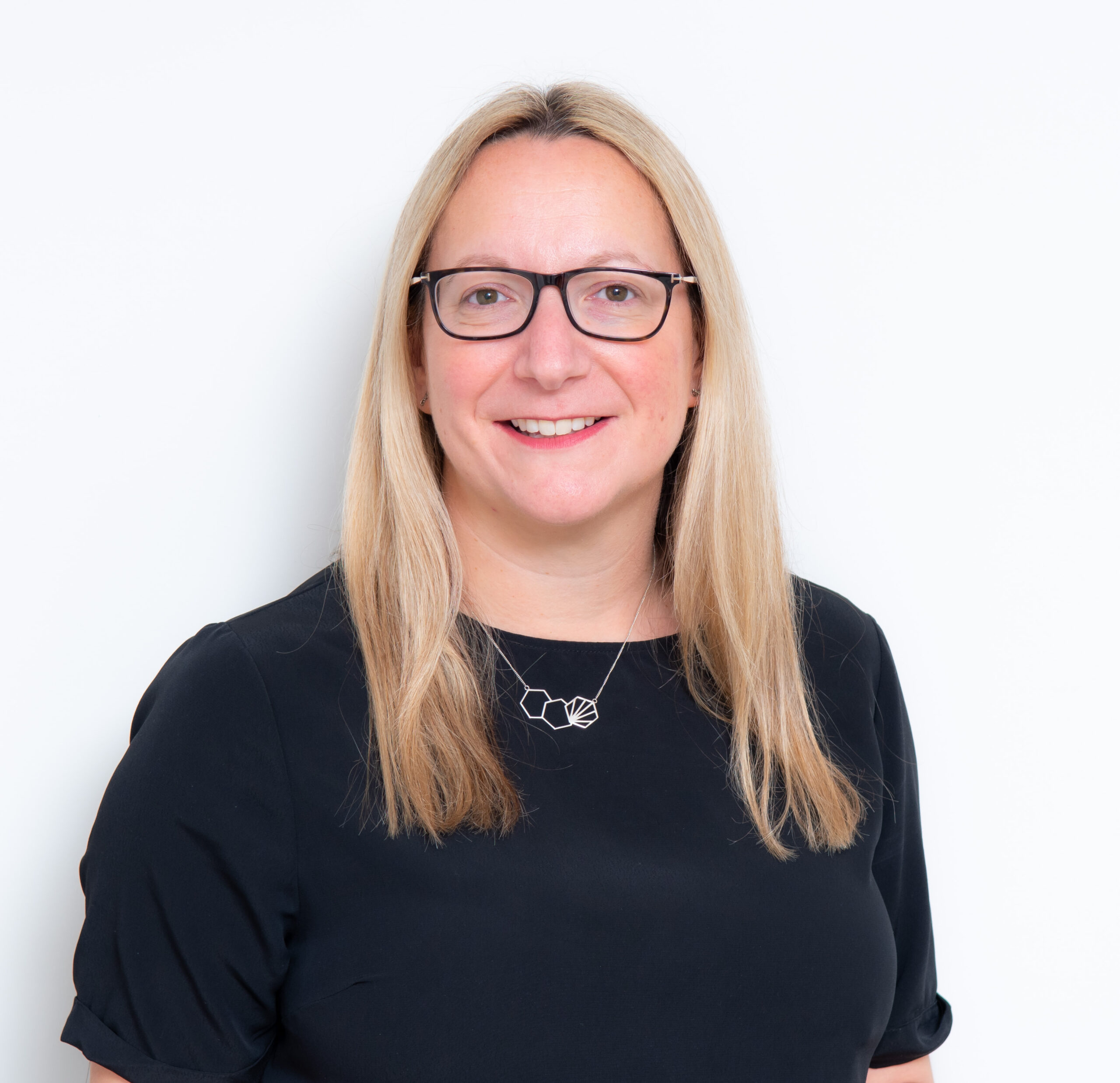 Meet Your Trainer, Gina Cohen
Microsoft Excel, PowerPoint, Outlook, Word, Teams and OneDrive training and Spreadsheet Consulting
Clients include Asset Management, Hedge Funds, Investment funds, Government departments, Law Firms, Advertising, Schools, Real Estate, Building Consultants, Pharmaceuticals, PR and many more
Eleven years experience in the Finance department at Morgan Stanley
CIMA qualified accountant
Spreadsheet experience includes Financial Statements preparation, management accounting, metrics, variance analysis, budgets, forecasting, activity based costing, reconciliations, process improvement, control enhancements, compensation reporting, liquidity management and operational risk
Training experience includes 1-2-1, small groups, large groups, demonstrations, lunch and learns, INSETs, floor walking and more
Training in person or remotely via Skype, Zoom or Teams
LinkedIn Profile here: https://uk.linkedin.com/in/ginacohen
Published book available here: In-depth Beginner's Guide to Excel Pivot Tables - Navigating PivotTables to Create Meaningful Reports : https://bookboon.com/en/in-depth-beginners-guide-to-excel-pivot-tables-ebook